November 2013
Welcome to NCTQ's newly re-named Teacher Trendline newsletter (subscribe here). A special shout-out goes to the anonymous survey respondent who proposed the new name.
This month we look at how school districts incorporate teacher performance into personnel decisions. We've seen a lot of movement in this policy area since we took stock of it a year ago. Here are the latest numbers on how districts are using teacher performance to determine evaluation ratings, pay and the order of layoffs.
65 of the 111 districts for which we have data currently require students' standardized test scores to factor into teacher evaluation ratings. Another 11 will do so in the next few years when new state laws go into effect.
The vast majority of districts that include student test scores in teacher evaluations require (or will require) that 50% of a teacher's evaluation rating be based on some form of student achievement data. No districts base their student achievement data on standardized test scores alone.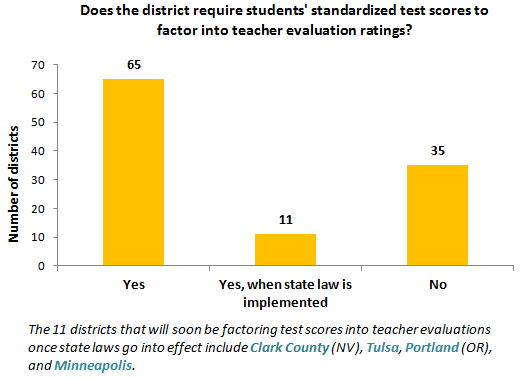 (click here for source data)
We've seen a big push for school districts to factor student achievement measures into teacher evaluation ratings, largely because of mandates in new state laws. The number of states with such laws jumped from 15 in 2009, to 30 in 2012, to 41 today (see our recent report Connect the Dots for details). Only two school districts in the NCTQ Teacher Contract Database look at test scores when evaluating teachers without state laws requiring them to do so: Los Angeles (for the first time in 2013-14) and Houston.
Just under a third of the districts we track tie step advancement to teachers' evaluation ratings, with eight of those districts also awarding bonuses based on ratings.
There is only one district--Harrison County (CO)--in which teacher pay is based solely on performance instead of years of experience, advanced degrees and other factors. Teachers are placed and advance on the nine-level, non-traditional pay scale according to their summative evaluation and student achievement data.
(click here for source data)
When we looked at the relationship between teacher pay and performance a year ago, we knew of only a handful of districts that tied step advancement on traditional salary schedules to evaluation ratings. Now we know of 31 districts that do this. Some of these policies are driven by state laws, such as those in Florida, Indiana, Louisiana, and Utah. But many districts, such as Denver, Boston, St. Paul, Newark, Dallas, and Cobb County and Fulton County in Georgia, are all doing this without a mandate from the state.
The eight districts that tie bonuses as well as step advancement to evaluation ratings are Douglas County (CO), Newark, Denver, D.C., and Caddo Parish, Jefferson Parish, East Baton Rouge Parish, and the Louisiana Recovery School District in Louisiana. The bonuses in the Louisiana districts are all nominal ($600 or less), but in Newark they go up to $12,500 and in D.C. they reach $25,000.
In 45 of the 108 districts for which we have data, performance is the primary criterion for laying off tenured teachers. In another 10 districts both performance and seniority are considered.
The large number of districts requiring that layoffs be done primarily by performance is driven by the 18 states (up from 15 in 2011) that require layoff decisions to be based on teacher performance. Six districts--Mesa (AZ), D.C., Meridian (ID), Wichita, Jackson (MS), and Wake County (NC)--conduct layoffs by performance even though state law doesn't require it.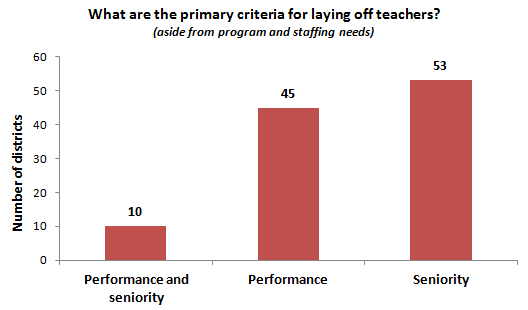 (click here for source data)
---
The Teacher Trendline is NCTQ's monthly newsletter designed just for school district officials (subscribe here). Each month we use data from NCTQ's Teacher Contract Database to highlight the latest trends in school district policies and collective bargaining agreements nationwide. The database contains teacher policies from 114 school districts, including the 50 largest districts, the largest district in each state, Broad Prize winners, Gates investment districts and members of the Council of the Great City Schools. Teacher policies from all 50 states are also included. Send feedback to nwaymack@nctq.org.