District Trendline, previously known as Teacher Trendline, provides actionable research to improve district personnel policies that will strengthen the teacher workforce. Want evidence-based guidance on policies and practices that will enhance your ability to recruit, develop, and retain great teachers delivered right to your inbox each month? Subscribe here.
April 2014: Teacher excessing and placement
In this month's Trendline, we examine what factors determine how teachers are excessed and how excessed teachers are placed in schools.
Teacher excessing
Excessing teachers occurs when a school has to cut staff due to any number of issues including, but not limited to, a drop in student enrollment, budgetary cuts or programmatic changes. Excessed teachers are not necessarily out of a job, but they do have to leave their current position and find another one within the district, usually in another school. Traditionally, districts have used seniority to determine how teachers are excessed, ensuring teachers with the least seniority are moved first.
While there has been some change in how districts identify teachers for excessing since we covered this topic last year, it is clear that seniority still dominates this identification process. Out of the 114 districts and 2 charter management organizations in our Teacher Contract Database, 63 percent use seniority as the primary factor when deciding which teachers should be excessed, compared to 11 percent that consider performance.
Notably, the districts that consider performance when identifying teachers for excessing last year have not changed their minds. These five districts- Cypress-Fairbanks (TX), Denver, Douglas County (CO), Louisiana Recovery School District and Orleans Parish - do not consider seniority in teacher excessing and prioritize performance during the excessing process.
Placement after excessing
When teachers are excessed, they are still employees of the school district and, in most cases, are entitled by virtue of their contract to a new placement in another school within the district. These placement decisions are made at different administrative levels depending on the district, and they usually factor in seniority to varying degrees.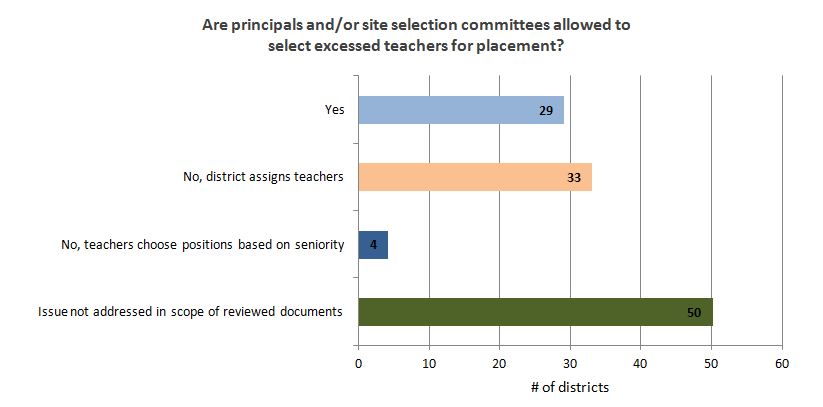 In a quarter of the districts in our Database, principals or a site selection committee choose which excessed teachers are placed at their schools. In 33 districts, the HR department assigns excessed teachers to vacant positions. Four districts - Clark County (NV), Jefferson County (CO), Little Rock and Spokane - give excessed teachers the unusual right to choose their placement based on their seniority, without input or approval from the principal. In those four districts, if you're the most senior teacher looking for a position, you get to pick first from the list of vacancies.
Excessed teachers who cannot find placements
In the few districts that refuse to 'force place' teachers into vacancies (giving principals the right to refuse a teacher), there are times when teachers cannot find placements after being excessed. Over a third of the districts in our Database either place these teachers in vacancies (either with principal input or without) as they arise after the regular hiring rounds or in temporary assignments until the teachers find permanent positions. In eight districts, the contracts clearly state that these teachers will eventually be exited from the system, either by being laid off or placed on unpaid leave.
In Charlotte-Mecklenburg, the district contract does not specify how long excessed teachers have to find placement before they leave the district. In Clark County (NV), Little Rock, Manchester, Palm Beach County and Spokane, teachers reserve recall rights for up to two years, during which they are offered positions as they become available based on their seniority. In Chicago, teachers are placed in a "reassigned teacher pool" for up to 10 months, after which if they have not secured a permanent position, they may be laid off. In Douglas County (CO), these teachers are reassigned by the district for up to one year, after which they are placed on unpaid leave and on a priority list for hiring for up to two years.
The District of Columbia also gives teachers a maximum of one year to secure permanent placement. Unlike other districts though, DC also offers these teachers a buy-out or early retirement. Specifically, DC offers excessed teachers:
A $25,000 buyout,

Early retirement, or

A year-long temporary assignment and continue looking for a position. If they cannot find another position within that year they will be laid off.
Why does this all matter?
If districts do not ensure clear, fair dismissal options for low-performing teachers, excessing often becomes a workaround solution for principals who want to move low-performing teachers out of their schools. The adverse effects of this are compounded when these particular teachers are placed in vacancies in lower-performing schools, where the most vacancies usually exist within a district.
As districts continue to develop, implement and refine performance-based teacher evaluation systems, we will keep track of how districts use that information to drive various personnel decisions, including placements for excessed teachers.