Washington, D.C. -- On January 10th, teachers of the nation's second largest school district will be going on strike for the first time in three decades. Negotiations between Los Angeles Unified School District (LAUSD) and United Teachers Los Angeles (UTLA) have come to a standstill over key teacher contract issues such as salary and class size restrictions.

Comparative data from the National Council on Teacher Quality (NCTQ) provides insight and context for the policies in question.

Teacher salary

The last proposal from LAUSD included a 3 percent increase to the teacher salary schedule retroactive to 2017 and another 3 percent increase retroactive to 2018. While the district had previously requested that teachers commit to an additional 12 hours of professional development time in return for these increases, they dropped that request at the recommendation of the neutral fact finder. UTLA is asking for a 6.5 percent raise to the teacher salary schedule, retroactive to 2016.

Compared to other districts in the immediate Los Angeles area, LAUSD has lower scheduled salaries, with the exception of Pasadena. Below is the comparative teacher salary data for Los Angeles area districts at three different points in a teacher's career.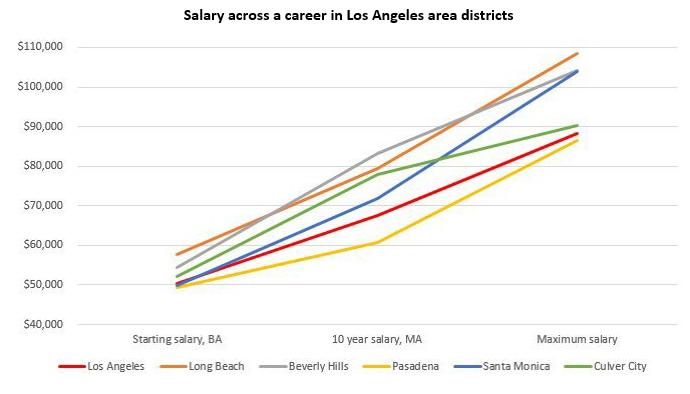 Given that LAUSD is the second largest school district in the country, it is also valuable to see how the district compares to other large districts in the nation. Compared to nine of the other largest school districts with traditional salary schedules, LAUSD has relatively competitive starting salaries, but over time becomes less competitive.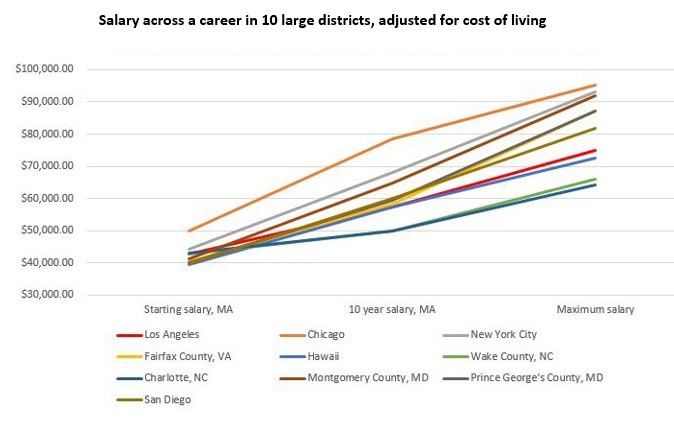 Class size

In the current LAUSD teacher contract negotiations, there are two key issues about class size that remain unresolved.

The first issue is the class size cap. UTLA wants to return to the class size caps in the previous contract, but the district wants to maintain higher class size caps that were negotiated through an MOU for the 2017-2018 school year, and then renegotiate new caps for the 2019-2020 school year. Under that scenario, the district has offered to reduce class sizes in core subjects in 15 high-need middle schools and 75 high-need elementary schools. After the fact-finding report was released, LAUSD updated their position to include committing 1-3 percent in additional money to hire new staff for the purpose of class size reduction.

Second, UTLA wants to remove language from the contract that allows the district to notify the union that the class restrictions will not be met "due to circumstances such as state funding limitations, changes in the student integration or other programs, or statutory changes."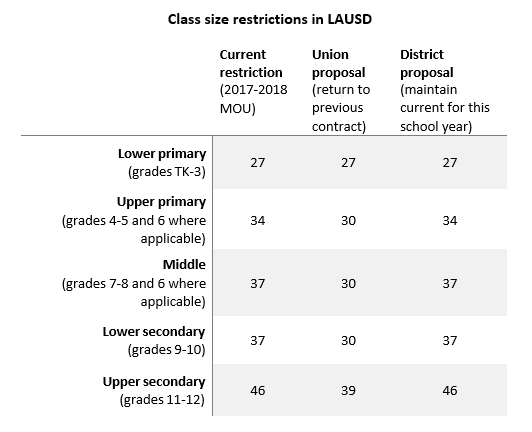 Note: this is only for predominantly Hispanic, Black, Asian, and other non-Anglo schools in academic subjects. For the complete list of all current class size restrictions, see current MOU
here
.
Among the 149 largest school districts in the country, the average class restrictions range from 20 students in pre-kindergarten classrooms to 31 students in 10th through 12th grade classrooms.
Currently, LAUSD exceeds those averages in all grades and indeed has the highest allowable class size (up to 46 students) in grades 11 and 12. Only about two-thirds of the large school districts that NCTQ tracks set class size restrictions, so it is possible that there are districts with higher class sizes in practice.
UTLA is fighting to remove language that currently allows the district to exceed these class restrictions. While language of this kind is not uncommon in collective bargaining agreements and board policies, frequently, contracts use language that reference class size "targets" or "goals" (as opposed to fixed caps). Most contracts include statements that the district will make an effort to meet the outlined goals, but if it is necessary to exceed the target, a school has permission to do so.
The chart below shows what happens in the largest school districts across the country when a class limit is exceeded. For more information on class size restrictions, see our analysis
here
.
For the full set of teacher contract data for LAUSD, and to compare LAUSD teacher policies to those of over 100 other large districts across the United States, visit the NCTQ
Teacher Contract Database
.
For detailed information and comparative analysis of state-level teacher policies, visit the NCTQ
State
Teacher Policy Database
.
###
To schedule an interview with NCTQ, please contact Nicole Gerber at (202) 393- 0020 ext. 712.
About the National Council on Teacher Quality:
The National Council on Teacher Quality is a nonpartisan research and policy group, committed to modernizing the teaching profession and based on the belief that all children deserve effective teachers. We recognize that it is not teachers who bear responsibility for their profession's many challenges, but the institutions with the greatest authority and influence over teachers. More information about NCTQ can be found on our website,
www.nctq.org
.