Learning how to read is not something that comes naturally. Many children need instruction from their teachers that follows the research on the most effective and efficient methods of teaching reading (often referred to as the "science of reading"). The path to literacy is supported by many actors, but states have a role in these four essential pillars: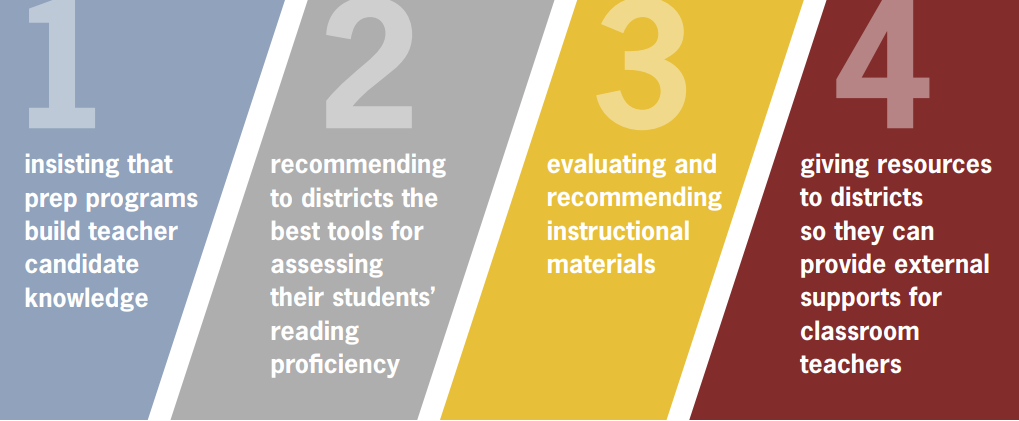 Pillar 1: Insisting that prep programs build teacher candidate knowledge.
It is this pillar where states can make the most progress, as states have such clear oversight over teacher preparation programs through their program approval process, as well as by means of licensing tests. Before PK-5 and special education teacher candidates enter the classroom, states should ensure that they have essential knowledge needed to teach children both how to read and how to read to learn. As a condition of teacher preparation program approval, states should also require that the reading courses for aspiring PK-5 teachers,
including special education teachers
, cover the knowledge and skills teachers should have mastered.
Read more on:
What every elementary teacher should learn about reading instruction
What states can do for teacher educators who teach reading instruction
Tests that do a good job measuring teacher knowledge of reading instruction
Pillar 2: Recommend to school districts the best tools for assessing their students' reading skills.
States are in an ideal position to recommend to their districts high quality validated assessment tools as well as validated diagnostic surveys for use throughout elementary grades. External tests will help school districts determine how best to support their teachers and if the curriculum is itself sufficient. In addition to curriculum-based assessments, these tools will help teachers to assess reading skills and better plan instruction.
Read more on:
Types and purposes of assessments
Recommended assessment tools and surveys
Pillar 3: Evaluate and recommend effective instructional materials.
Teachers should not be expected to implement their own approach to teaching reading. They need experts to curate approaches, curricula, and materials that are research based, field-tested, and revised based on student performance. States and their school districts are in a good position to enter into this work, but it may be most efficient for a state to set up a committee to conduct a full review of the available materials.
Read more on:
Helpful resources that outline the parameters of effective reading instruction
Curriculum review protocols
Pillar 4: Give resources to districts that allow them to provide external supports to their classroom teachers in reading.
Teachers need extra support to meet the needs of children who are learning to read, particularly for students who are really struggling or who may be dyslexic.
Read more on:
Smart ways for states to play a role
Professional development resources are recommended by this guide's Expert Panel


Behind this guide
The following researchers and practitioners helped produce this guide:
Claude Goldenberg, Ph.D.
Deborah R. Glaser, Ed.D.
Edward J. Kame'enui, Ph.D.
Kelly Butler
Linda Diamond
Louisa Moats, Ed.D.
Louise Spear-Swerling, Ph.D.
Margaret Goldberg
Sally C. Grimes